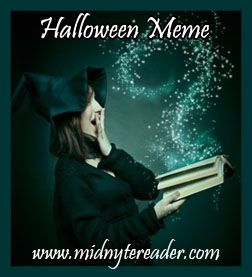 Hosted by the spooktacular Midnyte Reader!
Question: What was the first book that scared you?
Answer: I don't know the first one.  I've been a Midnight Book Girl since before I could remember.   But I guess I'll go with Firestarter by Stephen King.  I was very young when I discovered this book, left lying around the house after my dad had finished it (… okay, I found it in the upstairs hallway bathroom, or what my family refers to as the Reading Room).  I was in grade school, but I honestly can't remember what grade, just that it was before 6th grade because my brother Patrick was still at home.  Firestarter was probably the first "adult" novel I read, so it stands to reason that it was also the first book to scare me.  I still, vividly, remember the scene where Andy is at the testing center and a few people have a horrible, terrible reaction to the drug. 
Maybe Firestarter wasn't my first scare, lots of children's books and fairytales are fairly terrifying, but it is the first one that I remember reading on my own that had me sleeping with the light on (and wishing I had the power to burn people with my mind and force loose change out of phonebooths).    It wasn't long after that I discovered Christopher Pike and all the other YA horror authors of the 80's and 90's, and began the love affair with all things Stephen King. 🙂
What book scared you first?  And last?
Related Posts