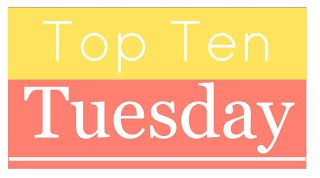 Top Ten Tuesday is a weekly meme created by the awesome people at The Broke and Bookish, who love lists as much as I do!
Top Ten Tuesday Freebie! This week I'm doing Top Ten most unfortunate character names.
1. Jane Jameson from Nice Girls Don't Have Fangs
You probably just read that as Jenna Jameson (the porn star) instead of Jane Jameson. Need I say more?
2. America from The Selection
I know there are a some America's running around but it's a total cliche in this book.
3. Rhine from Wither
In my head I kept thinking Whine. Which is oddly appropriate.
4. Peeta from The Hunger Games
Pita Bread. Enough said.
5. Echo from Pushing the Limits
You get the explanation of her name in the book, but that doesn't make it any less unfortunate.
6. Renesmee from Breaking Dawn
You knew this was going to be on the list, right?
7. Sookie Stackhouse from The Southern Vampire Series
The name itself is unappealing, but hearing Vampire Bill say "Soooookie" makes me cringe.
8. Hartley from Deadly Cool
I keep thinking of Harley and that is such a guys name, it does her no favors.
9. Ysabeau from A Discovery of Witches
I listened to the audio version and I totally thought it was Isabel.
10. Hermione from the Harry Potter series
Raise your hand if you pronounced this correctly from the beginning. *Looks around* Hmmm, No one I know!
Related Posts