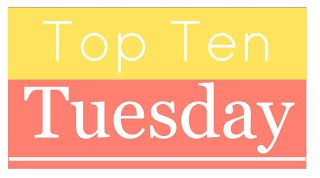 Top Ten Tuesday is a weekly meme created by the awesome people at The Broke and Bookish, who love lists as much as I do!
Top Ten Words/Topics That Instantly Make Me Buy/Pick Up A Book (thanks to Karin at My Life In Books for this topic & graciously letting us use it)
Actually this is a top six list today.
1. Cute
If you know anything about me you know that I LOVE cute books. I am that easy. In fact I'm pretty sure that at least 50% of my books are "cute" and the other 50% is everything else.
2. Natural Disasters
Another thing that I also love is natural disasters. They are fascinating and I love to read about them (natural disasters are better in books).
3. Dystopian
I know a lot of people are tired of dystopian but I still love them. I love how they can be creative and different without being so far out there that I can't picture it.
4. Ghosts
I freaking love ghosts. Happy ghosts, sad ghosts, murderous ghosts, it doesn't matter. I love them all. I especially love when ghosts appear when I'm not expecting ghosts to be in the book. That is the best ever.
5. Sports
I love when sports are in books (not books about sports). It's especially awesome when it's about football but I've read books that have baseball, hockey, soccer, etc and they are all good too.
6. "Effed Up"
If anyone tells me that a book is effed up I will definitely want to read it.
Related Posts