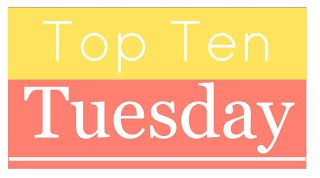 Top Ten Tuesday is a weekly meme created by the awesome people at The Broke and Bookish, who love lists as much as I do!
Top Ten Fictional Crushes
Fictional crushes. Sigh.
Noah Bad boys will always win me over. He has that bad boy edge with the perfect amount of sweetness thrown in. And he has a soft spot for his family.
Jack Even though Jack wasn't around a whole lot in Everbound, he is still amazing. I don't want to spoil the end of the first book, Everneath, but what he does at the end cemented all my feelings for him.
Matt He is perfect because he isn't perfect. He's cute and funny, but also has some not-so-bright moments that make him seem so much more real.
Ford He has lots of feelings. I like when guys have feelings, and I like when guys manage to express these feelings.
Levi Despite the fact that he is a total tough guy, he manages to do some very non-traditional sweet things.
Etienne Do I even need to explain?
Roarke He's hot. He's Irish. He has all the money. What's not to love?
Four I know there will be quite a few people that will disagree with me on this one, but that's life. He will always make this list for me. I love
Kaleb Again, bad boys will always win me over. And Kaleb is far and away one of my favorites.
Graham I've always had a thing for actors. Throw in a great personality and the fact that he cares about his family and I'm sold.
I could have gone on and on but I'll stop here 😉
Related Posts