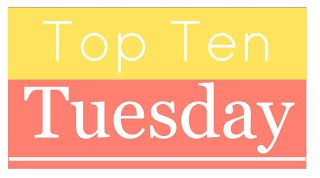 Top Ten Tuesday is a weekly meme created by the awesome people at The Broke and Bookish, who love lists as much as I do!
Top Ten Authors That I'd Put On My Auto-Buy List
1. Sophie Kinsella
She never fails to entertain and make me laugh.
2. Miranda Kenneally
I fell in love with Catching Jordan. Stealing Parker and Things I Can't Forget just cemented the feelings
3. Stephanie Perkins
How can you not love Stephanie Perkins?
4. Lauren Oliver
I love her writing so much that if she ever rewrote The Grapes of Wrath, I would read it.
5. Kristan Higgins
Her books are always cute and funny, but also filled with lots of feelings.
6. Jill Shalvis
Ok, I haven't read any of her books besides the Lucky Harbor books, but I have lots and lots of love for Lucky Harbor.
7. Christopher Pike
I stopped reading Christopher Pike around freshman year, but there are only a small handful of books of his that I haven't read. I'm working to catch up and he's on the auto-buy list for sure.
8. Ernest Cline
Ready Player One was amazing! Sometimes all it takes is one book and you know the author is for you.
9. John Grisham
While I haven't enjoyed his recent books quite as much as I did back on the day, I still buy and read them religiously because I absolutely love law books.
10. Jennifer Crusie
Her books never fail to make me smile. They're cute and funny, just the way I like them.
Related Posts