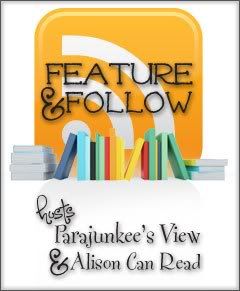 Feature and Follow is hosted by Rachel from Parajunkee's View and Alison from Alison Can Read. Learn all about it here.
What is the last book that kept you up late into the night just to finish it?
I saw this question and I just couldn't resist it, and that made me realize that I haven't participated in a Feature & Follow in a long time (like 3 months)!
Today I'm going to a signing with Midnight Book Girl, The Fake Steph Dot Com and The Daily Bookmark and I hadn't read any of the authors yet so last week I borrowed Across the Universe from Kate. I was a little nervous about reading it because it takes place in space on spaceship and I don't really do space or spaceships. But Kate said I would like it ok so I gave it a try.
I planned on reading a good chunk of it before going to bed, but I couldn't put it down.  It grabbed my attention pretty early and kept right on going (for the record A Million Suns, the second book, was actually more fast paced and I liked it better). The space thing wasn't really that bad either. I hate to say it but Sci-Fi might not be all bad.
Unfortunately I won't be able to tell Beth Revis how she made a sci-fi hater fall in love with her books because she is unable to attend the signing because of a family emergency. It's a bummer, but family always comes first. I hope that I'll have an opportunity to meet her in the future.
What book kept you up into the night reading?
Related Posts