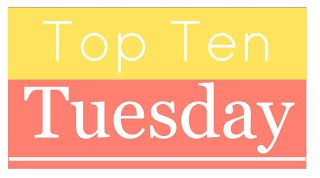 Top Ten Tuesday is a weekly meme created by the awesome people at The Broke and Bookish, who love lists as much as I do!
Top Ten Bookish Goals for 2013
1. Have fun
Reading and blogging aren't supposed to be work!
2. Read more adult books
I really dove into YA this year, which has been great, but I like adult books too.
3. Read all the book club books
I think I was less than 50% in 2012
4. Attend more author events
I already have 2 that I'm planning on for Jan/Feb 🙂
5. Take better notes while reading
(and by better, I mean to actually take them)
6. Reorganize my bookshelves
I separated out my YA and Adult books last year and that's not really working for me.
7. Purge some books
This goes right along with #6. I have books I'm probably not going to read and books that I'm not sure why I own that I really should get rid of.
8. Update Goodreads with my TBR books
Both physical and ebook copies (shudder)
9. Make an effort to read books about things that I think I don't like.
There are lots of things I don't like, one of the biggest being sci-fi. But recently I've read some books that could be classified as sci-fi and I liked them so maybe I don't really hate sci-fi that much. Maybe I should stop judging a whole genre by the one or two things I don't like and give other sci-fi books a chance.
Related Posts