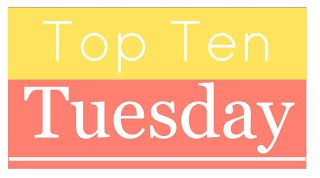 Top Ten Tuesday is a weekly meme created by the awesome people at The Broke and Bookish, who love lists as much as I do!
Top Ten Books I'd like Santa to bring me.
I'm thinking big here. Everything on my list is pretty much unattainable, either due to the fact that I don't have all the money or because the book hasn't been released yet, but I'm sure Santa can find a way to make this happen!
1. The complete Harry Potter series, the UK version
Nothing annoys me more than knowing that the Harry Potter series has been "translated" to American English. I want to own (and read) the UK version so bad.
2. The complete Harry Potter series, the Spanish version
I've always wanted to read this series in Spanish.
3. The complete Harry Potter series, the "adult" cover version
I saw these over at Pen and Paper a few weeks (months?) ago and absolutely fell in love with them. They are so pretty!
4. The complete Harry Potter DVD collection
Since I bought my Harry Potter DVD's as they were being released I have the most hodge podge collection of cases and it drives me nuts! I have some cardboard cases, regular cases, one with no case (I pilfered the DVD when my mom bought the combo pack) and blu-ray cases.
5. The rest of the Trixie Belden series
My mom recently gave me her Trixie Belden books, some of which belonged to her mom, which is awesome. Except there are 5 books missing. I would really love to own them but… they are hella expensive!
6. All the Christopher Pike books
I devoured Christopher Pike when I was younger, and I kept my books for a real long time. But when I decided to move from WI to VA I decided to get rid of all my "old" books that I haven't read in years. I probably got rid of 250 books total, but my Christopher Pike books are the ones I regret giving away the most.
7. An original copy of The Great Gatsby
I would just die if I got an original copy of this!

8. The Retribution of Mara Dyer by Michelle Hodkin
Pretty sure she's not even done writing it yet, but after finishing The Evolution of Mara Dyer I need to know what happens next soooo bad.
9. Through the Ever Night by Veronica Rossi
This one is the closest to being attainable as it releases in January! Can't wait!
10. Requiem by Lauren Oliver
It's close, but not close enough!
Related Posts