Coraline

by Neil Gaiman
Published by William Morrow on January 24, 2002
Genres: Horror, Middle Grade
Pages: 162
Format: Paperback
Source: Purchased
Goodreads

Coraline's often wondered what's behind the locked door in the drawing room. It reveals only a brick wall when she finally opens it, but when she tries again later, a passageway mysteriously appears. Coraline is surprised to find a flat decorated exactly like her own, but strangely different. And when she finds her "other" parents in this alternate world, they are much more interesting despite their creepy black button eyes. When they make it clear, however, that they want to make her theirs forever, Coraline begins a nightmarish game to rescue her real parents and three children imprisoned in a mirror. With only a bored-through stone and an aloof cat to help, Coraline confronts this harrowing task of escaping these monstrous creatures.
What I Thought…
I'll admit I was a little surprised by how much I liked it. I'm not really a fan of middle grade, and the last middle grade book I read, The Wishing Spell, fell flat for me. However that didn't happen for Coraline. I don't know if it's because Coraline didn't seem like a whiny brat or because I didn't feel like Gaiman was "talking down" to me.
The plot was genius! The idea of the other mother, so perfect at first, but yet still "off" was great. I was definitely kept on my toes as to what might happen next. I also found his creation of the alternate world fascinating in how it was the same… yet different, which only added to the creepiness factor.
This book had just the right amount of creepiness in it for a middle grade book (which is pretty much where my scare level is)! There were a couple of parts that had me on my toes.
Coraline herself was enjoyable. She cared not just about herself, but others as well.
The other mother could easily become a complete psychopath in an YA or adult book. And those button eyes… shudder.
The pictures in Coraline were so creepy. Especially the one of the other mother. That one gave me the willies!
I wish that Coraline would have been a little longer, at only 162 pages (with pictures) it's much shorter than any of my normal reads.
This is a perfect read to get you into the Halloween spirit.
Notable Quotes
"I will be brave, thought Coraline. No, I am brave."
"I don't want whatever I want. Nobody does. Not really. What kind of fun would it be if I just got everything I ever wanted just like that, and it didn't mean anything? What then?"
---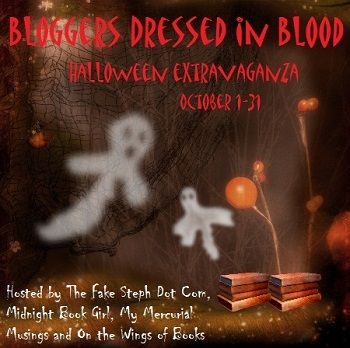 Participating in Bloggers Dressed in Blood? Be sure to link up your reviews and posts below.
Throughout the month I will be reviewing scary (ok, creepy) books to get you into the Halloween spirit. Join Kate, Steph, Danielle and I in our Halloween Fun.
Related Posts