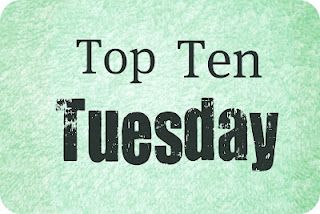 Top Ten Tuesday is an weekly meme created by the awesome people at The Broke and Bookish, who love lists as much as I do.
Top Ten Favorite Authors In X Genre (Ex- Top Ten Favorite Science Fiction Authors, Top Ten Fave Contemporary YA authors)
I don't read as much chick lit as I used to, but I still love it. I just love how there are always happy endings and how it always makes me feel good! Here are my favorite authors (covers link to Goodreads)
1. Sophie Kinsella
I freaking love Sophie Kinsella. Her books are filled with a ton of fun. Seriously, it just fun all over the place. Yes, I know that sometimes it's a bit ridiculous, but that's what makes it so good! The Shopaholic series is my favorite but Can You Keep a Secret comes in a close second.
2. Susan Elizabeth Phillips
Her books are always fun and filled with emotion, both good and bad. My all time favorite is Nobody's Baby but Mine, it probably has the most ridiculous plot, but I don't care. I also love how her books are connected but not connected, if that makes sense. You'll see bits and pieces of characters from other books, but you can still enjoy the story even if you haven't read theirs.
3. Kristan Higgins
I love, love, love Kristan Higgins' books. She is a fabulous writer and her books are more "real" than other chick lit books, like I could actually believe the story, it's not just a fairy tale. (Though I like fairy tale endings too!) Her main characters aren't cookie cutter like and they don't have gobs and gobs of money either.
4. Jill Shalvis
I haven't read all of her books yet, in fact I've only read the Lucky Harbor series, but they were fantastic. She has another 3 books in the series that I haven't read yet, but plan on doing so soon.  I have a thing for families and small towns so these books are perfect!
5. Jennifer Crusie
Crusie's books are funny but they are little less cutesy, then some of the other chick lit books. Bet Me is my favorite, Min and Calvin are hilarious!, plus it's really fun premise.
6. Julie James
These are probably a little more on the romance side, but they are still fun reads. They're all involving police/lawyers/FBI, which was what appealed to me cause I like that stuff.
7. Rachel Gibson
I found Rachel Gibson by accident and I'm so glad I did! Her older books are better than her newer ones, but they're all good. I'm not really a hockey fan, but I love her hockey series (you don't have to enjoy hockey to like the books). See Jane Score is my favorite (and a lot of fun)!
Only 7 today because I can't think of 3 other chick lit authors that I love lots like these.
Related Posts