Carrie

by Stephen King
Published by Pocket Books on April 5, 1974
Genres: Adult, Horror
Source: Purchased
Goodreads

A modern classic, Carrie introduced a distinctive new voice in American fiction -- Stephen King. The story of misunderstood high school girl Carrie White, her extraordinary telekinetic powers, and her violent rampage of revenge, remains one of the most barrier-breaking and shocking novels of all time.

Make a date with terror and live the nightmare that is...Carrie
What I Thought…
Honestly, I was a little disappointed. I vaguely remember being scared by the movie and I know that up until I read Under the Dome earlier this year my only other attempt at a King novel was The Tommyknockers, which I did not finish. Carrie is more of a thriller than horror. It wasn't scary enough to give me nightmares, but I still needed to keep reading.
Even though Carrie does all this bad stuff you can't help but feel sorry for her. Her mother is pretty much the worst mother ever, which is pretty much where all this starts for Carrie. I think if her mother would have been normal or telekinetic powers would not have been that much of an issue. Early on in the book you learn that her mother refers to breasts as "dirty pillows". And that's just the tip of the iceberg. As far as crazy psycho people in books go Carrie's mom is one of the best.
Carrie is one of those main characters that you're really just not supposed to like. She's messed up and crazy and having telekinetic powers makes everything worse. But even if you don't like her, you can't really hate her because a lot of it was circumstance. Because of her crazy mom she was not as aware of things as a normal girl her age and was not socialized at all as a child and that definitely shows in school.
Sue was my favorite character. Even though she wasn't perfect I liked her the most pre-prom and post prom she was an obvious choice.  She went through so much in the book and definitely changed in the process. Her actions regarding getting Carrie to the prom are admirable, even if her plan was partially selfish.
Bullies suck! I almost think Carrie could be used as a scare tactic to stop bullying. Like a "This is what could happen if you bully people. Real. Bad. Things." Unfortunately I think that even though the type of scene that happens to Carrie would be unlikely to happen today, I know that other bullying still goes on. You could almost say that in today's world it could be worse because of cyber bullying.
I liked how King used "documents" and "reports" to write the story. I kind of felt like it was one of those 20/20 specials (which was probably the intent). It kind of gave it a more "real" feel. I have a thing for "documentary" style fiction (i.e. the office) and this fit right in.
At times Carrie moves a little slow, especially in the beginning. I just wanted to get on with the good stuff!
Overall, it's a good, classic read to get you into the Halloween spirit.
---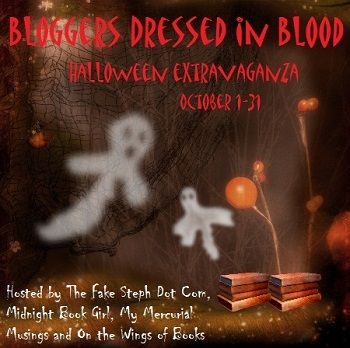 Participating in Bloggers Dressed in Blood? Be sure to link up your reviews and posts below.
Throughout the month I will be reviewing scary (ok, creepy) books to get you into the Halloween spirit. Join Kate, Steph, Danielle and I in our Halloween Fun.
Related Posts