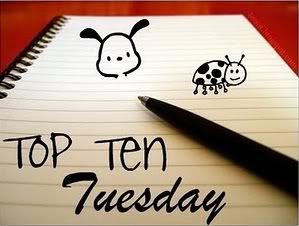 Top Ten Tuesday is an original feature/weekly meme created at
The Broke and Bookish
.
Top Ten Characters I'd Like To Switch Places With For 24 Hours
1. Tris Prior
Four.  Need I say more?
2. Tina Fey
I know she's not a character, but who wouldn't want to be her for a day?
3. Aria
I want to play around with the Realms.  It's sounds so cool.
4. Poppy Wyatt
She had an insane amount of fun, even through all her troubles.
5. Anna Oliphant
Paris. Etienne. Paris.
6. Samantha Reed
I just want to be a part of the Garrett family, cause they are incredibly awesome.
7. Heather Wells
Who wouldn't want to be a former rock star that now solves crimes?
8. Echo Emerson
Even though her life is clearly not ideal, I'd like to spend some time with Noah.
9. Lily Garcia
The time travel thing is pretty cool.  You could spend the 24 hours going to any time.   Plus there is Kaleb.
10 Hermione Granger
Who wouldn't want to spend 24 hours at Hogwarts?
Related Posts