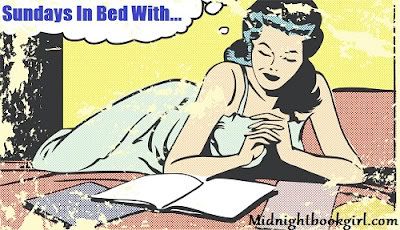 Kate at Midnight Book Girl has started a new feature on Sunday mornings to share with everyone what you're reading in bed Sunday morning before getting to the days activities.
Today I'm hoping to find a spare minute or two to read The Chaperone by Laura Moriarty.  My friend Kate received a copy for review, loved it, and has graciously loaned me her copy.  I'll be meeting her at BEA and I would love to be able to finish the book before going but it's pretty big and I have lots of work stuff to accomplish, but I should be able to get at least half way through.


* BEA is only one week a way!!!!!  I am so excited, but I am in my one-week-before-vacation-freak-out mode.  There is so much to do and so little time!  Things always get crazy before vacations because I have to do the work I would have be doing during that time early.  I apologize in advance but commenting for the next two weeks will be minimal, if at all.  I promise to get out there to make up for it when I get back!
* I had to buy a new cover/case for my ereader this week and I was really disappointed that they no longer make the one that I had.  So after much contemplation I picked out a new one, and it has a stand, and I freakin love it!  I no longer have to hunch over the table when I'm trying to read while I eat breakfast.
* I made a spur of the moment decision to quit drinking soda.  (I didn't have any in the house and I just cannot spend $1.69 on a bottle of soda, it's a rip off!)  We'll see if it sticks this time.
* There is something wrong with my desk chair and I don't know how to fix it.  I've tried everything.  I'll be sitting at my desk working and all of a sudden the chair will just sink down to the lowest height.  Sometimes bit by bit, sometimes all at once.  It's really annoying and I can't figure why it's doing this.  I may be buying a new chair soon.
Related Posts