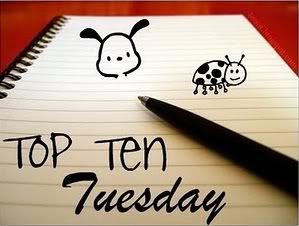 Top Ten Tuesday is an original feature/weekly meme created at
The Broke and Bookish
.
Top Ten Freebie!
2. The Grapes of Wrath by John Steinbeck
Worst.  Books.  Ever.  These were the only two books that were required reading in high school that I didn't actually read.  I don't remember much about As I Lay Dying other than Cliff and I became BFF's during this time, without him I would not have survived this book.  I was actually looking forward to reading The Grapes of Wrath because I enjoyed Of Mice and Men.  Boy was I disappointed!  The Grapes of Wrath was way to long, way to boring and way to much symbolism (I like to be entertained thank you very much).  Plus there is an entire chapter devoted to a turtle crossing the road! 
3. Reliquary by Douglas Preston and Lincoln Child
I read Relic for book club and while it wasn't the most fabulous book ever I did enjoy it so I thought I would continue on with the series.  Reliquary was weird.  I mean really weird.  Like way far out in outer space weird.  And it just didn't make any sense.
4. The Alchemist by Paulo Coelho
A lot of people loved this book.  I was not one of them.  It was repetitive and easily could have been much, much shorter and I would have gotten the same point.
5. The Innocent Man by John Grisham
I love John Grisham's books.  His first non-fiction book was a very painful read and lacked his usual charming characters and plot.  It just didn't feel very suspenseful and I was not particularly interested in finding out what happened.
6. Matched by Ally Condie
Sorry, but in the dystopian world of books this one fell short.  There are so many other dystopian novels that have more action and better character development that I would recommend before this one. 
7. Sweet Valley Confidential by Francine Pascal
This probably should have been number one on my list.  If you enjoyed the Sweet Valley books as a kid stay away from this book.  Far, far, away.  This is not the fun Sweet Valley that you remember, things are different and NOT in a good way.  I heard there might be another one and that makes me want to cry.
8. What the Dead Know by Laura Lippman
I've heard some good things about Laura Lippman, and I'll probably give her another try someday but this was a DNF for me.  I was seriously bored and not at all intrigued by any of the characters.
9. Zone One by Colson Whitehead
I've never enjoyed zombies, but I thought I would give this book a shot because it looked fairly interesting.  This book was a DNF for me and confirmed that I do not like zombies, but that's not why the book is on my list.  Zone One makes my list for two reason.  1.  The main character, Mark Spitz, is always referred to as Mark Spitz.  Drove me nuts!  It's not like there are other Marks out there.  2. There are only three chapters.  Three!!!  That's like 90 pages a chapter!   I would much rather have James Patterson's 150 chapters.  At least it gives me a place to stop.
10. Blindness by Jose Saramago
It's critically acclaimed and all that jazz, but it was very tedious and difficult to get into.  It was originally written in Portuguese so problems with translation could account for some of the problems with they way it was written, but not the tediousness of it all.
Related Posts