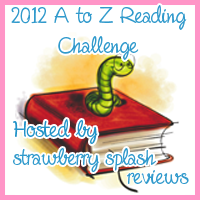 I have always wanted to read A to Z in a year.  The A to Z Reading Challenge is hosted by Strawberry Splash Reviews.
There are three possible challenges you can partake in.
1. Author – A to Z by authors last name, 26 books.
2. Title – A to Z by book title, 26 books.
3. Double Whammy – Do both Challenge 1 and 2 for a total 52 books.
I chose to do the Titles
Here's my progress:
A: Anna Dressed in Blood by Kendare Blake
B: Before I Fall by Lauren Oliver
C: Cleopatra's Daughter (reviewed on goodreads) by Michelle Moran
D: Divergent by Veronica Roth
E: Everneath by Brodi Ashton
F: The Fault in Our Stars by John Green
G: The Girl with the Dragon Tattoo by Stieg Larsson
H: Hallowed by Cynthia Hand
I: I've Got Your Number by Sophie Kinsella
J: Jurassic Park by Michael Crichton
K:
L: The Litigators by John Grisham
N: The Name of the Star by Maureen Johnson
P: Persepolis by Marjane Satrapi
Q: Queen of the Dead by Stacey Kade
Related Posts